Private Birding Tour - All Year Round Great for Birding

HIGHLIGHTS OF OUR BIRDING TOUR IN ECUADOR:
Private Tour and Possible Birding Count between 200 - 350 Bird Species

Visit over 12 Birding Reserves in the West & East Andean Birding Slopes

Excellent Lodges with Private Birding Reserves

Expert English Speaking Birding Guide and Private Transfer
Day 1
ARRIVAL
Transfer in to our Birding Lodge,

Hacienda Jimenita,

located 15 minutes from the airport.
Meals: No Meals Included.
Overnight Hacienda Jimenita, Luxury Hotel. King Suite with chimney
Day 2
MORNING BIRDING JIMENITA RESERVE & SPECTACLED BEAR PAPALLACTA PASS
Day 3
ANTISANA CONDOR & WILDLIFE RESERVE
The

Antisana Reserve

is the most impressive Andean Mount near Quito and Sanctuary of Wild Andean Condor. After breakfast visit the Upper Andean Valley near Antisana Volcano. Upon arrival to the reserve we will make strategic stops to observe different bird species and

Natural Birding Treasures

that Antisana offers, including the

Ecuadorian Hillstar, Andean Condor

and the rare

Andean Ibis

. We will have a delicious Box Lunch viewing La Mica Lake and several

Aquatic Species

. Afternoon return to our lodge.
Target Birds:

Andean Condor, Shining Sunbeam, Red-Crested Cotinga, Spectacled Redstart, Ecuadorian Hillstar, Caranculate Cara-Cara, Black-chested Buzzard Eagle, Variable Hawk, Black Flowerpiercer, Andean Ibis, Paramo Ground Tyrant, Andean Gull, Andean Lapwing, Many-striped Canastero, Tawny Antpitta and others.

Meals: Breakfast, Lunch and Dinner
Overnight Hacienda Jimenita, Luxury Hotel, King Suite with Chimney
Day 4
ZURO LOMA, YANACOCHA RESERVE, OLD-NONO MINDO ROAD
Early pick up at 5:30am from our lodge. Drive towards

Yanacocha Reserve

located in the Pichincha Foothills. We will visit the Antpitta and Ocellated Tapaculo Hides in Zuro Loma Feeders. Continue to Yanacocha Reserve for birding in the main trails of the

High Montane Forest.

Lunch with a splendid view to the West Slope Cloud Forest and Pacific Coast. Continue birding in Old-Nono Mindo Road located in Tandayapa Valley. Late afternoon arrival to our lodge in Mindo.
Target Species: Sword-billed Hummingbird, Undulated Antpitta, Scarlet-bellied Mountain Tanager, Palm Tanager, White-lined tanager, Masked Flowerpiercer, Burrowing Owl, White-throated Screech Owl, Golden-breasted Puffleg, Great Sapphirewing, Thick-billed Euphonia, White-necked Jacobin, Black-chested Mountain Tanager, Golden-headed Quetzal, Crested-headed Quetzal,Tawny-bellied Hermit and others.
Meals: Breakfast, Lunch and Dinner
Overnight Sachatamia/Sisakuna Lodge, Double Room Cabin
Day 5
ANDEAN COCK OF THE ROCK RESERVE, SAN TADEO TANAGERS AND MILPE BIRDING SANCTUARY
Day 6
AMAGUSA MASHPI RESERVE, ANDEAN COCK OF THE ROCK PHOTO & ALAMBI HUMMINGBIRD PARADISE
Day 7
EAST SLOPE CLOUD FOREST AND GUANGO TORRENT DUCK RESERVE
Pick up at 7am from our lodge. Our drive to the

East Slope Cloud Forest

will initially lead us through the drier central valley where we will pass through a mix of agricultural zones and native chaparral forests before rising up steeply to the high and windswept paramo. Along the way possible to observe the Spectacled Bear in our strategic points. Continue to

Guango Reserve

, where we frequently run into some of the best temperate forest flocks; best photography in our Hummingbird feeders. After lunch and in late afternoon visit other Hummingbird feeders in the East Slope near Cosanga Valley. At night

Nocturnal Birding

around the lodge for possible Owls.
Target Species: Rufous-bellied Seedsnipe, Gray-hooded Bush-Tanager, Brown-backed Chat-Tyrant, Bar-bellied Woodpecker, White-banded Tyrannulet, Black-capped and Black-eared Hemispingus, Slaty and Pale-naped Brush-Finch, Sword-billed Hummingbird, Buff-tailed Coronet, Collared Inca, Hooded Mountain Tanager, Grey-breasted Mountain Toucan, Mountain Cacique, Inca Jay and Turquoise Jay.
Meals: Breakfast, Lunch and Dinner
Overnight San Isidro Lodge, Double Room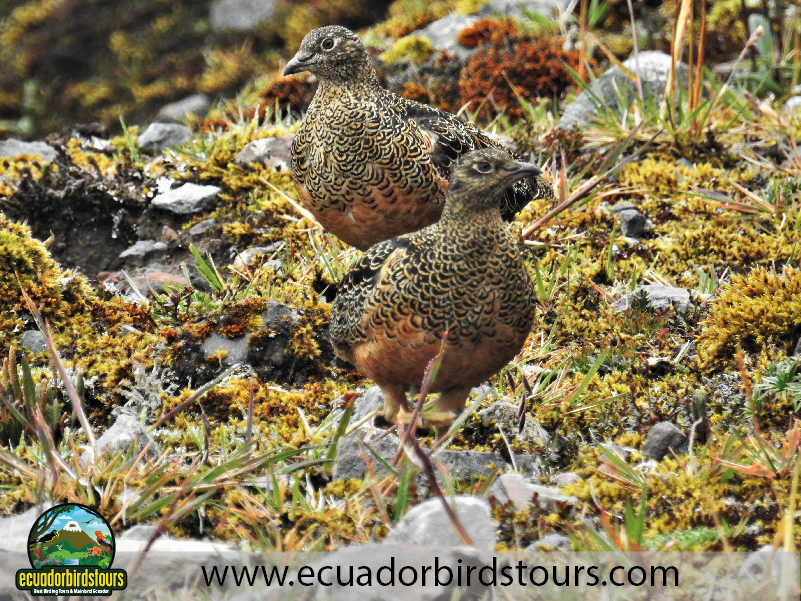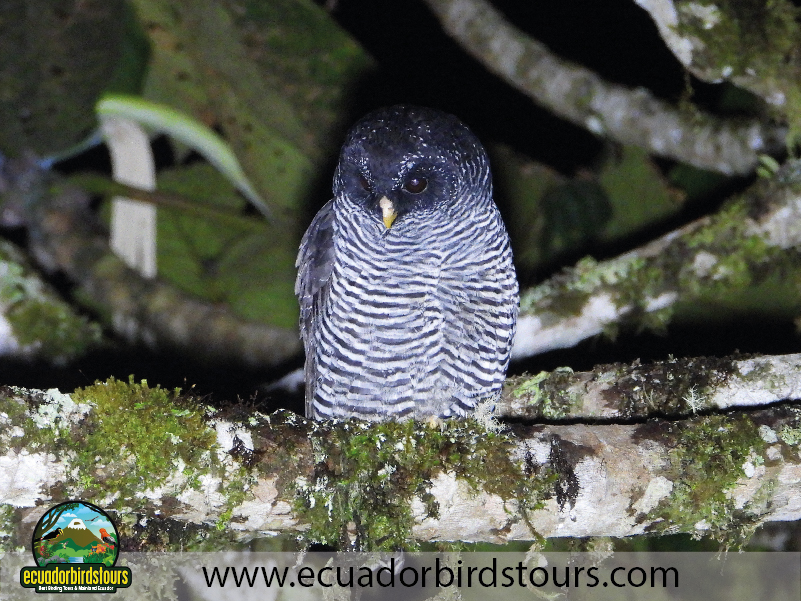 Day 8
GUACAMAYOS RIDGE, SAN ISIDRO BIRDING RESERVE & PARADISE TANAGER FEEDERS
We plan to start the morning with some birding right around the lodge and main trails before breakfast. Continue to the famous Guacamayos Ridge at the border of the Upper Amazon Basin for possible Guans, Tanagers and Black-billed MountainToucan. Explore the

White-bellied Antpitta

Feeder and continue birding in Guacamayos Ridge for possible Toucans, Guans, Flycatchers and Exotic Tanagers. After lunch at the lodge, we will return to Quito with a stop at the

Paradise Tanager Feeders

.
Target Species: Montane and Olive-backed Woodcreepers, Golden-crowned Flycatcher, Rufous-crowned Tody-Flycatcher, Cliff Flycatcher, Black-billed Peppershrike, Subtropical Cacique, White-bellied Antpitta, Long-tailed Antbirds, Plain-tailed Wrens and Chestnut-breasted Chlorophonias, Fruiteaters, Andean Potoo, San Isidro Owl, Rufous-banded Owl, Green Grass Tanager and others.
Meals: Breakfast, Lunch and Farewell Dinner
Overnight Hacienda Jimenita, Luxury Hotel, King Suite with chimney.
DAY 9
TRANSFER OUT TO THE AIRPORT or TRIP EXTENSIONS
After breakfast transfer out to Quito Airport. Optional extension to Upper Amazon Basin, Yasuni National Park or Galapagos Islands.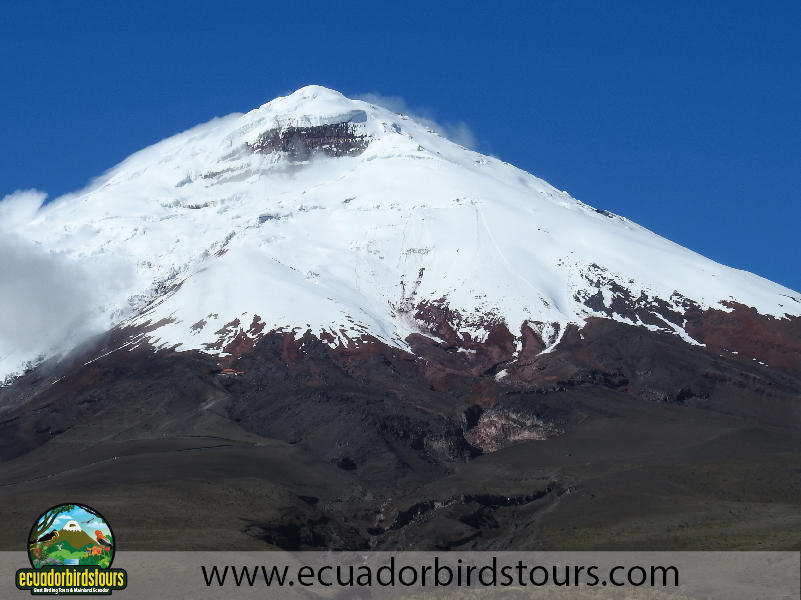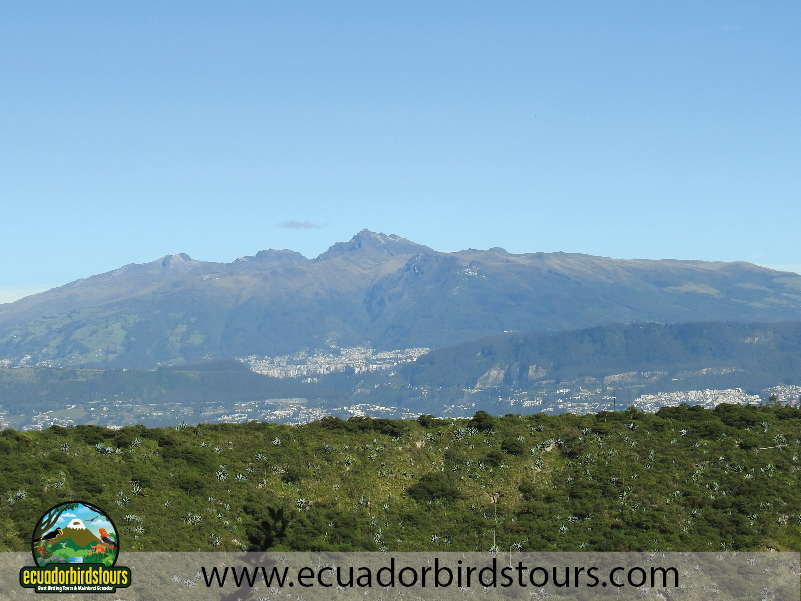 INCLUDED: Welcome Drink at Hacienda Jimenita, Souvenir Ecuador Birds Tours Kit, Personalized Birding List, Excellent Accommodations, Entrance Fees to All mentioned Birding Reserves, Delicious and Healthy Meals, 24/7 Private Airport Transfers, Expert Birding Guide, Private Transportation and Quality Services.
NOT INCLUDED: Personal Expenses, Alcoholic & Soft Drinks, Meals not listed in the itinerary and Tips
OUR RECENT REVIEW: "Lifetime Fabulous Tour: My husband and I just came back from our trip; it was OUTSTANDING! The itinerary for us was so carefully detailed and thoughtful. We were in awe of his attention to our having the best experience in this absolutely beautiful country. The people were so welcoming and friendly. The meals were perfectly delicious. And the parks and nature stops were all full of birds we were so happy to discover and watch! Our guides, Daniel Cruz and Jorge Luna, were the BEST! From people, resorts and meals, no one could find a better company to trust. From our hearts, we thank you Ecuador Bird Tours".
CLICK: CONTACT EMAIL
CLICK: GALLERY OF PHOTOS
CLICK: RECENT REVIEWS - 5 STAR CUSTOMER SATISFACTION
CLICK: OTHER PRIVATE BIRDING TOURS